WGM Dixie Aria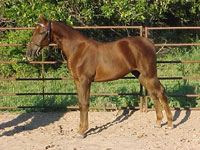 BE-ST'S Rhett Starr X Samac's Dixie Rhapsody
WGM Dixie Aria



WGM Dixie Aria
The second foal to carry our farm prefix, this filly has her sire's athletic body, early growth, and strong legs. She is 14.2 hands at 15 months and should mature between 15 and 15.2 hands. She is both loving and intelligent. Since both her sire and dam have such sweet and willing to please attitudes, Aria got a double hit.

She has show experience (Ada and Norman,OK, the Oklahoma State Fair and a local parade). She leads, parks out, lounges, trailers, bathes, stands for clipping and the farrier. Aria has been started in the Parelli Natural Horse Man Ship program. Aria has a bright future as a sport horse, in driving and with her breeding she would make an excellent addition to any breeding program.

Aria is currently for sale. Please see our ad on Dreamhorse.com. ID # 142856 for a full pedigree, or contact us directly through this web site. She will start training in preparation for driving this coming spring and be ready to drive by the end of the summer. We are asking $3000.00 Please contact us for additional photos or a video.

Pedigree for WGM Dixie Aria
Chestnut Morgan Filly
Sire
BE-ST's Rhett Starr
Sire
Courtnaire
Sire
Fortunes Millionaire
Sire
Doves Airon
Dam
Fanny's April Fancy
Dam
Dynasty Courtney
Sire
U C Viscount
Dam
Apache
Dam
Blackgold Renee
Sire
Kendalwood Diplomat
Sire
Chasley Superman
Dam
Dawn Treader
Dam
My Lady Robin
Sire
Caven-Glo Mity Song
Dam
Amber Allen
Dam
Samac's Dixie Rhapsody
Sire
Samac's U Watch Me
Sire
UVM Jefferson
Sire
UVM Watchman
Dam
UVM Aleta
Dam
Bredwinner Queen B
Sire
Night Owl Virginian
Dam
Porvenir Julianne
Dam
Epic Dixie Melody
Sire
Dixieland Jazz
Sire
Empyrean Apollo
Dam
Snow's Early Dawn
Dam
Sooner Lady Lu
Sire
Funquest Bendo
Dam
Funquest Lady Brown
This is Shalia (Step In Pride) a registered 1/2 Arabian Mare. On November 7th, a message was posted to the Oklahoma Horse Chat Group that there was an Arab mare in Seminole in need of help. She was 100 + lbs underweight and in need of worming. She had exhausted all fat from her body and had been living on the muscle. My Dad made an early Christmas present of her to me. We went to see her that night and purchased her on the spot. The first photo was taken the day after we brought her home. We called her pretty girl for the first week, but began calling her Shalia as we believe that it means Excellent Gift. She is an intelligent and affectionate mare and we look forward to her future at Wild Goose Morgans.
Shalia has a freeze mark under her mane and through this mark and the efforts of Katie Reynolds at the IAHA office and Debora Godbey who works in freeze marking, we read her mark and have located her last registered owner. Amazingly enough just one year ago this mare took 1-1st place and 2-3rd places in halter classes at a show in Rockwall, TX. Her sire is Star Pride a full blood Arabian and her dam is Step And Fetch a 1/2 Arabian, making Shalia 3/4 Arabian. Needless to say we are now very much in favor of freeze marking. We saw a diamond in the rough, but without the mark we would never have known just what a jewel we had.
Every day Shalia adds weight and confidence in her new surroundings. After a few short rides we know that Shalia has a soft mouth and is very sensitive to leg cues. We truly believe that she is an Excellent Gift.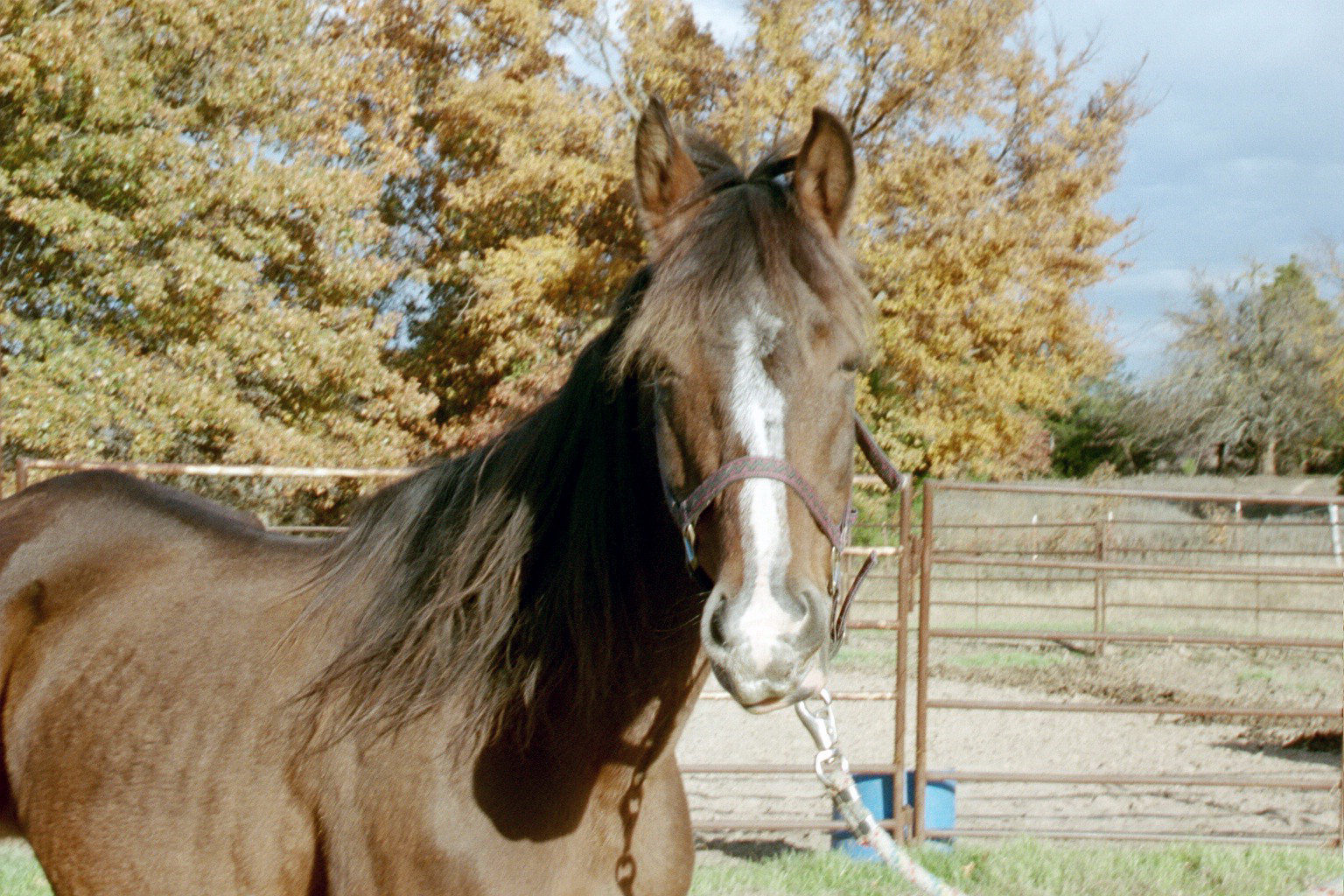 Shalia's Head (The 2nd day we had her)
Pedigree for Step N Pride
Bay Half Arabian
Sire
Star Pride
Sire
Bask-Tu
Sire
Bask
Dam
?
Dam
?
Sire
?
Dam
?
Dam
Step N Fetch (1/2 arab, 1/2 Hackney Pony)
Sire
?
Sire
?
Dam
?
Dam
?
Sire
?
Dam
?