This is Shalia (Step In Pride) a registered 1/2 Arabian Mare. On November 7th, a message was posted to the Oklahoma Horse Chat Group that there was an Arab mare in Seminole in need of help. She was 100 + lbs underweight and in need of worming. She had exhausted all fat from her body and had been living on the muscle. My Dad made an early Christmas present of her to me. We went to see her that night and purchased her on the spot. The first photo was taken the day after we brought her home. We called her pretty girl for the first week, but began calling her Shalia as we believe that it means Excellent Gift. She is an intelligent and affectionate mare and we look forward to her future at Wild Goose Morgans.
Shalia has a freeze mark under her mane and through this mark and the efforts of Katie Reynolds at the IAHA office and Debora Godbey who works in freeze marking, we read her mark and have located her last registered owner. Amazingly enough just one year ago this mare took 1-1st place and 2-3rd places in halter classes at a show in Rockwall, TX. Her sire is Star Pride a full blood Arabian and her dam is Step And Fetch a 1/2 Arabian, making Shalia 3/4 Arabian. Needless to say we are now very much in favor of freeze marking. We saw a diamond in the rough, but without the mark we would never have known just what a jewel we had.
Every day Shalia adds weight and confidence in her new surroundings. After a few short rides we know that Shalia has a soft mouth and is very sensitive to leg cues. We truly believe that she is an Excellent Gift.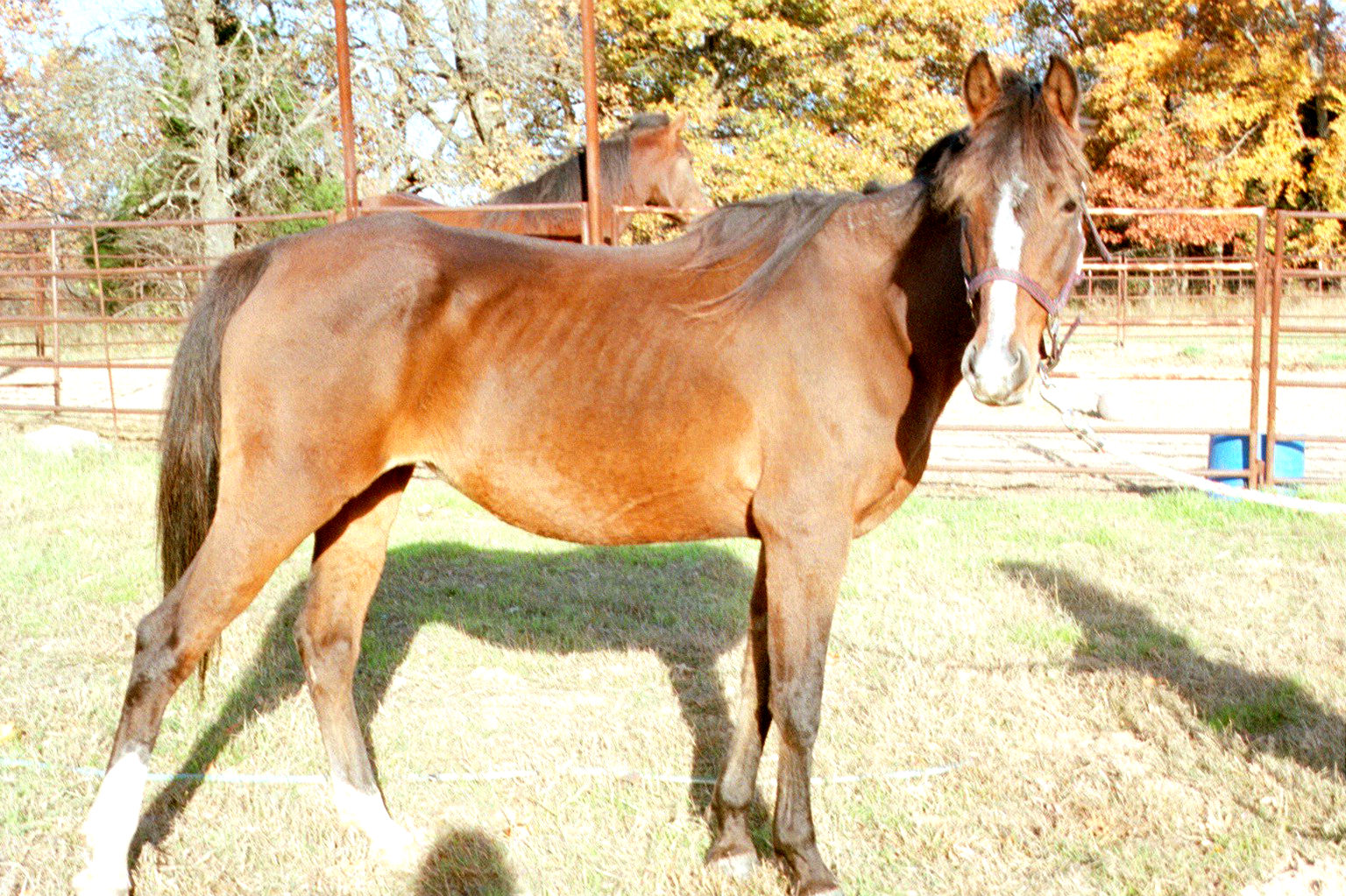 Shalia 2nd day we had her.
Shalia